Every business strives to increase profits and increase market share. Doing business online allows you to do both, and gives you the opportunity to enter new markets and attract new customers, but what if that customer can't pay for the item or service offered with their preferred method of payment? That customer will certainly leave and go to a competitor who accepts alternative payments.
Are Alternative Payment Methods Safe?
For businesses the most common type of eCommerce fraud that you'll have to worry about is chargebacks; it's also the most expensive type of fraud for the majority of small businesses. If you're a small business that has experienced chargebacks in the past, then you'll know that it leads to a loss of inventory or services, a loss of time trying to resolve the issue, and often can lead to additional fees by your payments processor.
Digital wallets can offer better protection than traditional credit cards but the greatest protection will be offered from cryptocurrency as chargebacks don't exist in that space.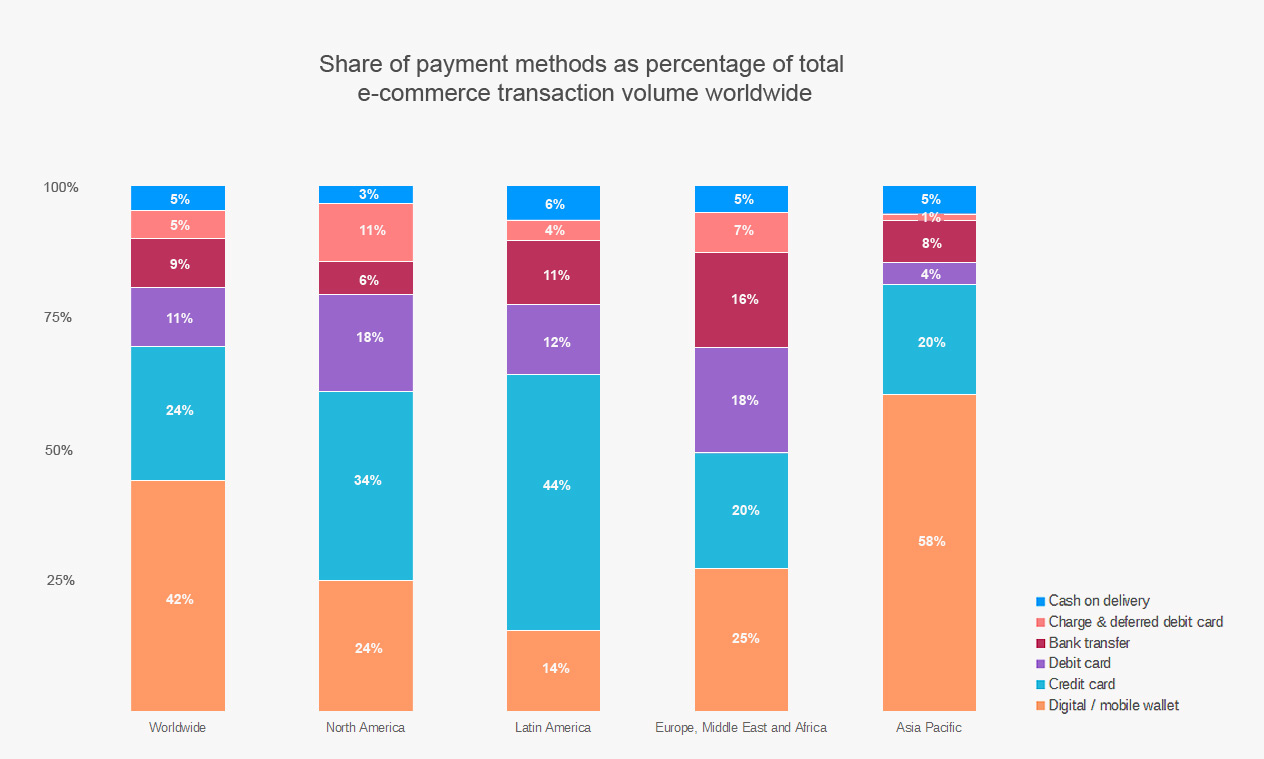 Source: Global Payments Report 2020, page 9 to 25
Cryptocurrency
A relatively new form of payment that can be used for both online ecommerce businesses and in store businesses. While some traditional retailers may currently find cryptocurrencies to be confusing, make no mistake that it's a payment method that is growing exponentially each year.
Rather than being tied to a specific government or bank, cryptocurrencies are decentralized which means their values are the same in any country. This leads us to one of the main advantages of cryptocurrencies that comes from it's anonymous nature: Security. There is very little risk with any personal information being stolen from both customers or businesses and because chargebacks are impossible, business owners can feel safe selling goods online to global customers.
In order to accept cryptocurrencies like bitcoin, your business will need to connect to a processor like NetCents that can supply shopping cart integration, apis, or in-store terminals. If you're interested in finding out more information then just fill out the form below to get access to an on-demand demo of the NetCents Merchant Platform.
Cryptocurrency Credit Cards
Businesses and customers are in a tug of war over demanding more security versus more convenience. Traditional credit card companies are failing to provide solutions that can please both sides. This is where a new credit card based around cryptocurrencies is leading the change.
Usually cryptocurrencies are difficult to spend in the real world, often the user has to find an ATM that will allow the cryptocurrency to be converted to fiat, but with a Crypto Visa card, like the one from NetCents, you will be able to use them at over 40 million merchants worldwide (essentially wherever Visa is accepted).
These cards are going to be extremely popular in 2021. They'll allow customers to convert cryptocurrencies into fiat currencies instantly at the moment of sale. Merchants just accept them like a normal credit card and can be reassured that fraud is impossible with the secure nature of crypto.
Apple Pay / Google Pay
Although they are rivals, both payment options allow the users to upload credit card information into their devices and make payments online, in apps, or in store by using NFC (near field communication) allowing the user to make purchases at POS terminals.
These payment methods provide one of the most secure and convenient checkout experiences available by providing the users the ability to authorize payments with either touch or face id. Also, there's no risk of data being stolen if the device is lost as the user's payment information is stored in the cloud.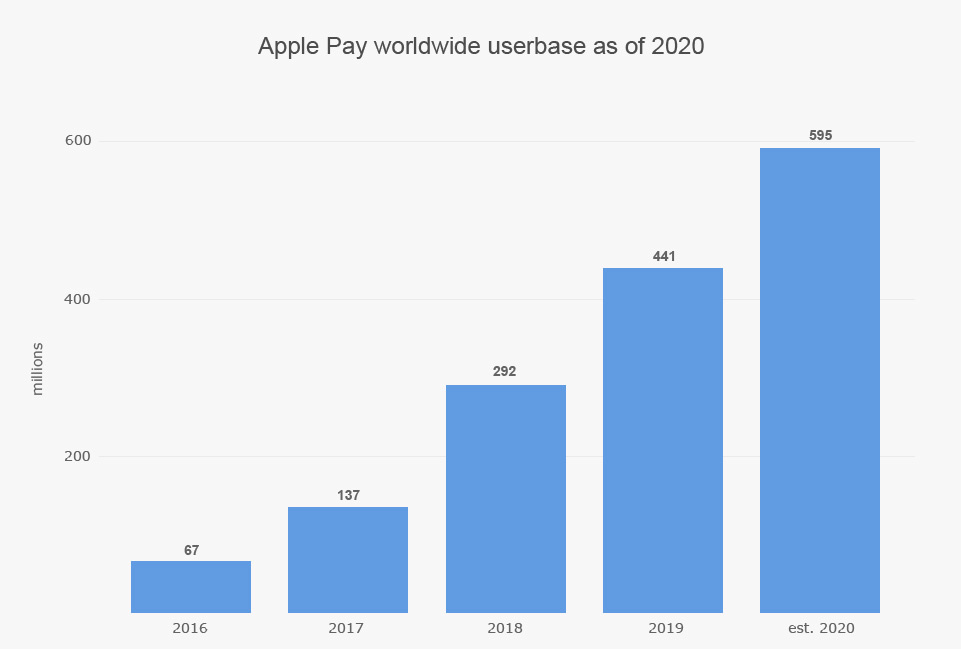 Source: Loup Ventures
Both Apple Pay & Google Pay are becoming very popular as more people are online shopping on their mobile devices. In fact it's estimated that mobile eCommerce will account for nearly 73% of all eCommerce sales in 2021! As smartphones take the lead for online shopping it's important to remember that providing mobile friendly website design and allowing multiple payment methods in checkout will both be key for businesses going forward into the new year.
Amazon Pay
Amazon is a well known brand and as such it's a great PayPal alternative. The service connects a user's Amazon account, where their payment information is stored, with the checkout of the online store the user is trying to make a purchase. For an online business it makes sense to extend the Amazon brand onto your business as it forms trust and a connection right away.
The service is available on all devices; the user just has to simply log into their Amazon account during the time of purchase and checkout with the same Amazon interface they're familiar with. By implementing Amazon Pay, you're removing the need for the user to manually enter in their credit card information. This may lead to less reluctant customers who may not be familiar with your brand but are familiar with Amazon.
Alipay
Alipay's e-wallet is widely used by Chinese citizens for many services including mobile payments, online payments with cross-border eCommerce solutions, recurring payments, and receiving international money transfers from overseas. As such it is China's leading alternative payments provider with over 1 billion active annual users every year.
Now whether you're buying things at a supermarket or in little corner stores, Alipay is everywhere in China. but more importantly, Chinese consumers are just as interested in spending their money overseas on global brands as they are locally.
As a business owner it would make sense to incorporate Alipay as a payment gateway into your online storefront as it potentially opens you up to this giant audience. Already merchants in over 50 countries offer Alipay as a payment option in-store and online.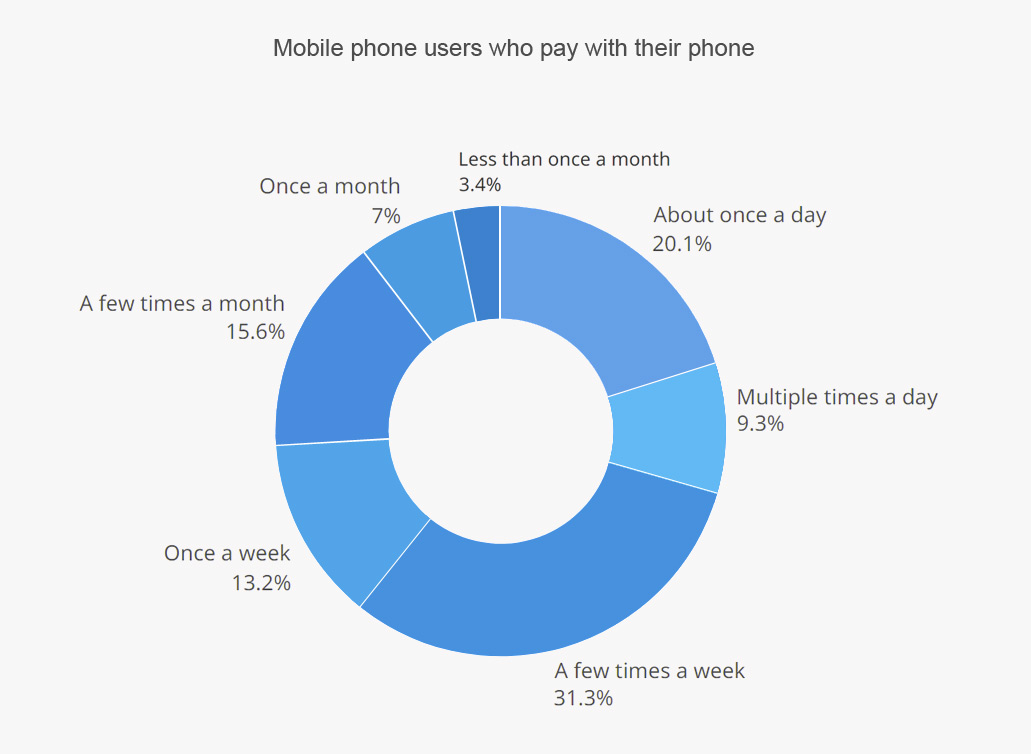 Source: TSYS
What's the Next Step?
That really depends on which alternative payment methods you would want to add to your business. You shouldn't add every single one, but instead choose specific ones based upon the future growth of your business. Keep in mind that mobile eCommerce is set for incredible growth in 2021.
Other factors you will need to determine will be based upon your audience and the type of industry you're in. An online store, based in North America, that wants to open themselves up to the global marketplace will need to consider how users in the other countries prefer to pay. On top of that is the concern of security and fraud prevention when dealing with customers or clients that are abroad.
If you have any questions regarding cryptocurrency and implementing it into your business, please feel free to email us and of course, you can book a call as well with our Merchant Support Team.