This week, we announced the launch of our SaaS-based cryptocurrency merchant gateway. The team has spent the last few months conceptualizing, building, and deploying this major upgrade to our system. A first in the industry.
But you may be asking yourself. Why?
What does that mean for NetCents, our partners, the overall crypto world, and for cryptocurrency mass adoption?
The short answer is a lot. But that doesn't really explain anything to you. Nor does it give you insight into why this is a major advancement for both NetCents and the overall crypto industry.
So grab a cup of tea. Or whatever warm beverage you enjoy on a chilly December day and follow us while we fill you in on all of the details and give you insight on what we are building and how we are going to achieve our vision and goal of becoming the underlying technology that powers cryptocurrency transactions worldwide.
First up. Our partners. If you've been following our news releases since the summer, you'll know that we've signed quite a few ISO Reseller and White Label agreements.
Why are these important? Merchants and cryptocurrency adoption.
But let's back up for a minute and give you a quick 101 refresher on the traditional payments industry. This will be important later in this blog post.
Processors
The processor helps shuttle all of the information to the card brands and banks. Businesses are connected to the processor through the hardware or software they are using, and when they run a transaction the information is routed to the appropriate network. Then when a merchant "batches" or closes out for the day, the funds are moved from the Issuing Bank to the merchant's bank. Payment Processors include Elavon, Chase Paymentech, First Data, and Global Payments.
Payment Gateway
A payment gateway connects the payment technology (terminals, shopping carts, etc.) and the card processing networks. This can be integrated into a merchants current solution with an Application Programming Interface (API). Payment Gateway companies include Stripe, PayPal, Authorize.net, and NetCents.
Payment Terminal
This is the machine you use to swipe your credit or debit card. Not to be confused with a Point of Sale system. Payment terminal companies include Poynt, PAX, Exadigm, and Ingenico.
Point of Sale System
This is similar to a payment terminal, but it's tailored to meet the needs of each business. It contains the hardware and software that allows you  to run your business. You can place orders, track inventory, run payments, etc. Point of Sale systems include Squirrel, Micros, NetSuite, and Lightspeed.
ISO – Independent Sales Organization
An Independent Sales Organization – more commonly known as an ISO, but also called a Member Service Provider or MSP – is a third-party company that is contracted by a credit card member bank to procure new merchant relationships. ISO's also process credit card processing transactions for businesses.
Ok, phew. That was a lot to take in!
Key take away. ISO's have relationships and manage merchants payment processing needs. Traditionally, that meant credit cards. But as you know, there is nothing traditional about us. But that doesn't mean that we can't align ourselves with these traditional companies to achieve our key objectives.
Now back to the main point of this blog post. Why we moved over to a SaaS-based platform. Let's dive into some of the specific use-cases to help paint a picture.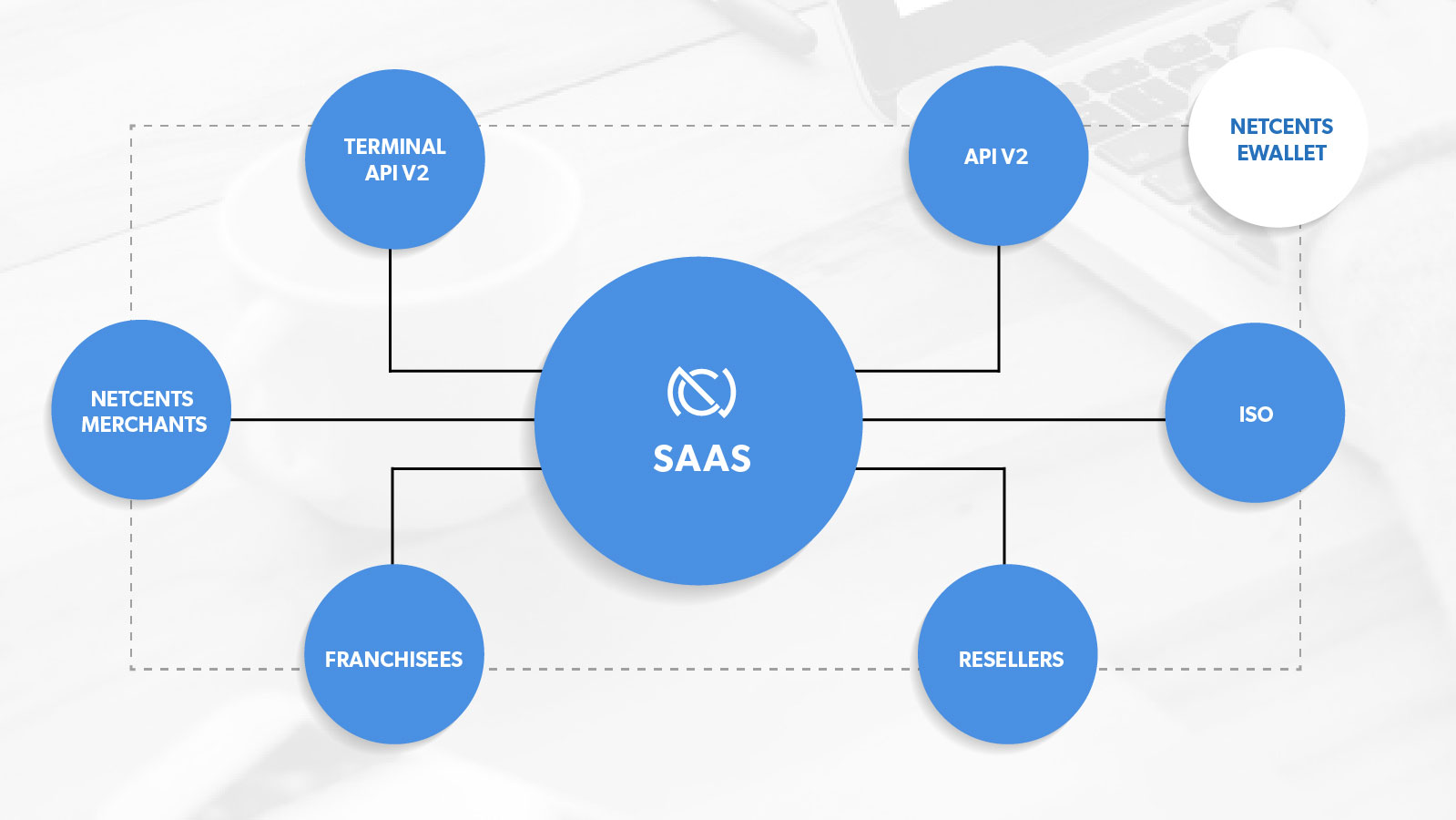 White Labels, ISO's, and Resellers
We have actively been aligning with key ISO's and Resellers for one very specific reason. They hold the relationships with merchants. As we stated in our last blog post, it's a lot easier for us to sign one ISO agreement that gives us access to their tens of thousands, if not hundreds of thousands merchants that it would be for us to directly sign up all those merchants.
With the new NetCents SaaS platform, onboarding new Resellers, ISO's, and White Label Partner's is a much simpler and streamlined process. Our Partners can be onboarded and branded quicker than any other platform in the market, allowing our Partners to fully customize the platform from branding to fee structure, provide them with full flexibility and management. With our full featured API, the onboarding process for them is straightforward. Thus, making their merchant onboarding easy and simple.
Franchisee and Chain Businesses
With the NetCents SaaS platform, franchisee and chain business have a customized portal that meets all of their brand needs, for all of their stores, allowing them to have central management of all crypto-based transactions, terminals, settlements, and user access.
Terminal API
With our Terminal API, any POS/Terminal manufacturer can simply utilize our API documentation to integrate cryptocurrency payment processing directly into  their terminal, allowing any merchant that uses this terminal to directly accept cryptocurrency payments on the same device that they use for their other payment methods. Creating a sustainable solution for our Partners and merchants.
NetCents SaaS Payment Gateway API
The NetCents SaaS Payment Gateway API can be used by any financial institution, processor, FX platforms, and Payment Gateway to use the NetCents rails (technology for those that don't have a CTO to give you the industry terms) to build their own cost effective cryptocurrency solution.
So that gives you the 10,000 foot view of just a few of our reasons for moving to a SaaS-based platform. But we wanted to dive in a bit further. So we sat our CTO, Mehdi, down to give us a more technical explanation of the technology and benefits.
Our SaaS platform is built on elastic computing that can scale both vertically and horizontally. This allows our infrastructure to adapt based on the number of transactions going through our system at any given moment.
Ok, that was a mouthful?? Elastic Computing?
Let's head over to Techopedia for a definition:
Elastic computing is a concept in cloud computing in which computing resources can be scaled up and down easily by the cloud service provider. Elastic computing is the ability of a cloud service provider to provision flexible computing power when and wherever required.
Basically, it allows us to add more resources as needed automatically to meet demand at any given moment.
What does that mean for NetCents merchants and users?
This allows us to handle more transactions per second than current blockchain technology allows for with the system deploying nodes as transaction volume increases based on our predefined set of thresholds. Currently, our infrastructure is based in North America with plans to scale and deploy more nodes in Europe and Asia. This will give us worldwide distribution, redundancy, and unmatched performance.
With nodes around the world, we will be able to direct and distribute traffic to the closest node, increasing processing volume capabilities while reducing the overall load on our infrastructure and the time it takes to process a transaction. This benefits our users, merchants, and Partners by providing increased processing speed and decreased transaction times.
Our vision has always been to be the transactional hub for cryptocurrency payments. Similar to the ACH (Automated Clearing House), or for those of you in Europe – SEPA, for the banking world. With this release, we have simplified the ability for anyone to become involved in cryptocurrency payments – from merchants to users to traditional payments companies to financial institutions. We have bridged the gap with existing and legacy platforms, increasing the integration and adoption of cryptocurrency as an everyday method of transacting.
From financial institutions to processors to ISO's – even WeChat and AliPay, all of these companies run on some sort of rails like SEPA or ACH, the underlying technologies that power traditional payments and connects everything.
With NetCents, we are doing this for cryptocurrency. Our process. Our platform. Our technology. All proprietary and built in-house.
All of this in one place. We are doing this today and are quickly becoming the underlying technology that pins together cryptocurrency and blockchain with traditional payments and banking.
This is replacing outdated and legacy technology. This is the future. This is NetCents.
This is the beginning of the end of fiat as we know it.