A piece of digital art has sold for $6.6 million
In October 2020, a United States art collector paid almost $67,000 acquiring a 10-second video clip. That piece of art, which was created by digital artist Beeple, then sold for $6.6 million USD just last week.
Digital art is now big business for many bitcoin owners as they are now investing in pieces of art, which are authenticated on the blockchain. This type of digital asset, known as a non-fungible token (NFT), has a digital signature that certifies its authenticity. The use of this blockchain technology allows pieces of digital art to have an owner, even when copies of the file can be shared across the internet.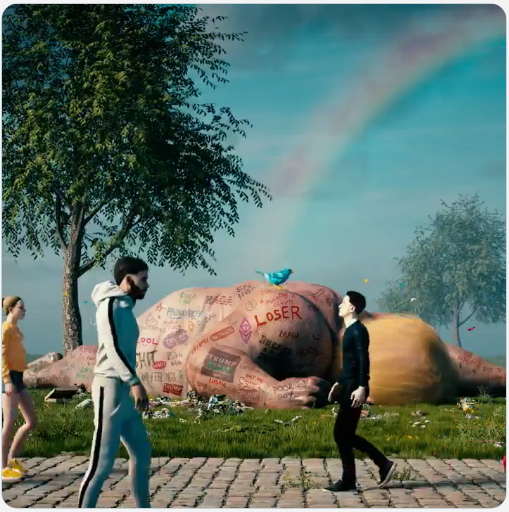 An analogy would be that you can find an image of the Mona Lisa online and save a copy onto your computer but it won't be the Mona Lisa that people travel to see. For digital artists, such as Beeple, this means there is now a technology that can grant ownership of digital goods.
The world of NFTs is going to be a wild place with digital artwork, virtual environments, and sports clips kicking off the use of this exciting technology.
They did what to the Banksy?
A piece of art titled "Morons," by the famous street artist Banksy, was bought for $100,000 by a group of crypto artists and then burned in Brooklyn, New York. The group later released an NFT  for that Banksy piece, which they intend to auction off with the proceedings going to charity.
This marks the first time that an artwork has been destroyed and then sold in a digital form. Banksy was aware of this event and he doesn't seem to mind. In 2018, his piece 'girl with Balloon' was shredded moments after it was sold for 1 million pounds.
Professionals trust crypto
Blind, a professional network for tech people, conducted a survey on the trustworthiness of cryptocurrency. They gathered data from over 1,800 respondents from various professionals in the technology and banking sector. The results showed that over half the respondents trust cryptocurrencies with many owning them. For example, 75% of Twitter professionals who responded own one form of crypto or another.
It was found that 90% of professionals from JPMorgan and 70% of Goldman Sachs employees trust digital currencies. It makes sense as there is renewed interest by institutional investors during crypto's runup in the past year.
Not to be outdone, nearly 40% of respondents from PayPal would accept crypto as compensation in their professions. Users of the Blind platform can also share posts. One professional wrote:
"Half my wealth in crypto. It's the future of money and you'll probably do it too someday. Is it risky? Yes. But I am highly confident it will pay off."
Second Ethereum ETF filed in Canada
Evolve Funds Group, an exchange-traded fund provider in Canada, is getting ready to release an Ethereum ETF. This will be the firm's second crypto related product as they released a Bitcoin ETF back in february, which is now trading on the Toronto Stock Exchange.
In the Ethereum announcement, Evolve Funds Group said it has filed a preliminary prospectus with CSA (Canadian Securities Administrators) for that ETF. Both funds will give investors exposure to each crypto's daily moving price.
Evolve's chief investment officer and chief operating officer, Elliot Johnson said,
"Ether is the building block for a revolution in digital finance which is still in its infancy,"…."Ethereum is the most actively used blockchain, with ether being used to pay for transaction fees and computational services."
Dogecoin is now available at over 1,800 ATMs across the United States.
Bitcoin ATM provider Coinflip has recently added Dogecoin to their list of digital currencies that are available to purchase at their ATMs. Alongside Dogecoin, crypto enthusiasts can now purchase Bitcoin, Ether, BinanceCoin, Dash, & Litecoin among others at those ATMs which are located in 45 out of the 50 US states
The coin has been gaining popularity thanks to tweets from Tesla founder Elon Musk and by backing from the Reddit subgroup WallStreetBets, who were recently in a battle with various Wall Street hedge funds.
---
That's the end of this week's recap. If you want to learn more about cryptocurrency with NetCents, make sure to subscribe to our blog below! If you see an interesting story that you think we should feature, send us a message on Facebook, Twitter, or Instagram.
Did you miss last week's news? Read it here!
Subscribe to our blog