Ethereum hits a new all-time high
After three years of waiting, Ethereum reached a new all-time high on January 19. While all eyes have been on Bitcoin since the end of 2020, Ethereum has been on its own wild ride. In fact, its value grew by over 80% in just three weeks, reaching $1,439 this week.
So far, Bitcoin's rally has been fuelled by retail and traditional investors. Now many investors are looking to diversify their portfolios with Ethereum.
Find more statistics at
Statista
Furthermore, Fundstrat Global just predicated that Ethereum may reach $10,500. Strategist David Grider said that Ethereum is the "best risk/reward investment play in crypto."
BlackRock takes the first step into crypto
The world's largest asset manager appears to have granted two of its funds the ability to invest in Bitcoin.
These filings mark BlackRock's first entrance into the crypto market. Before this development, they had never previously mentioned Bitcoin in any regulatory filings. However, BlackRock's top executives began to view Bitcoin favourably last year.
CEO Larry Fink acknowledged Bitcoin's rising popularity and said that it could evolve into a global market asset. BlackRock's Chief Investment Officer Rick Rieder also had positive words for the cryptocurrency.
"It's going to be part of the asset suite for investors for a long time."

Blackrock's Rick Rieder says there's clearly great demand for bitcoin https://t.co/R5aP5J4Rm1 pic.twitter.com/ocbkboulDr

— Bloomberg TV (@BloombergTV) December 17, 2020
Rapper Soulja Boy shows more interest in cryptocurrencies
Three years after creating the song "Bitcoin", the Chicago-born rapper turned to the cryptocurrency community for advice.
What's the best way to buy Crypto? Robinhood? Coinbase?

— Soulja Boy (Drako) (@souljaboy) January 19, 2021
Even though he left out the NC Exchange in his question, we can forgive him for now. While he received a ton of advice, the conversation ended up shifting to another direction. Some advised that he should look into creating his own non-fungible token or even his own cryptocurrency. Maybe he should team up with Akon?
While Soulja Boy admitted to being a bit out of his comfort zone, we're thinking his next best move might be a sequel to Bitcoin. Can we get an Ethereum song now?
Justin Roiland's "crypto art" sells for $150,000
Animator and video producer Justin Roiland's tokenized art piece has been sold for $150,000 in a silent auction on January 19th. The piece titled "First Rick and Morty Crypto Art' was sold on Nifty Gateway, an NFT marketplace.
SILENT AUCTION RESULT "First Rick and Morty Crypto Art" by @JustinRoiland

WINNING BID: $150,000

1. blanK

Congrats to the winner and to @JustinRoiland! Last 2 silent auctions have 5 minutes remaining. pic.twitter.com/M7k7PzlIRp

— Nifty Gateway (@niftygateway) January 20, 2021
Roiland has an entire crypto art collection that includes other pieces inspired by popular shows like The Simpsons. As an early adopter, Roiland went public with his endorsement of Bitcoin back in 2015.
Cryptoart works by adding a unique and indelible signature to a digital file. The NFT represents a value of scarcity for the associated artwork. For example, a Star Wars-themed tokenized artwork sold for over $750,000 back in December.
While this concept might seem quite niche right now, we know that the demand for non-fungible tokens boomed in 2020.
New report shows that older generations are getting into crypto
In a new report 'The Future of Money', we get a snapshot about where cryptocurrency adoption is heading in 2021. According to the survey results, 30% of respondents aged 45 – 54, use cryptocurrency. As well, over 85% of all participants felt safe using cryptocurrency.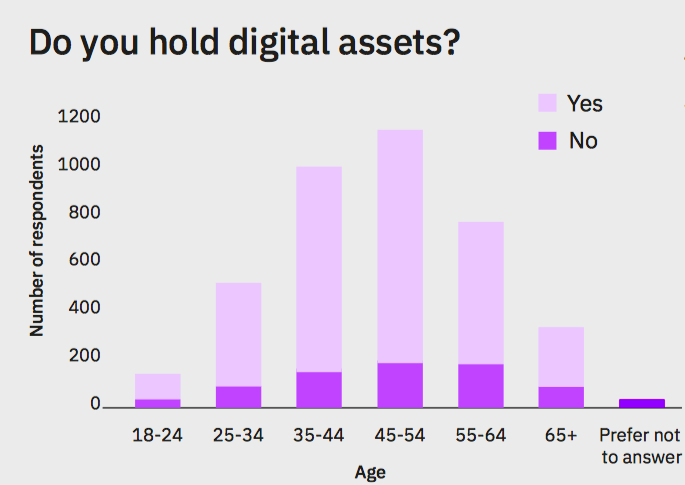 Last year, a British cryptocurrency trading app, reported similar results. They found that Baby Boomers and Generation-X users increased their monthly crypto investments by a factor of 9 during the pandemic.
---
That's it for this week folks! If you're interested in learning more about cryptocurrency with NetCents, contact our team below. If you see an interesting story that you think we should feature, send us a message on Facebook, Twitter, or Instagram.
Did you miss last week's news? Read it here!
Contact Us